fix bar
fix bar
fix bar
fix bar
fix bar
fix bar
Be the FIRST to get new free stuff! Join our mailing list.
Free Cadbury Christmas Cottage Kits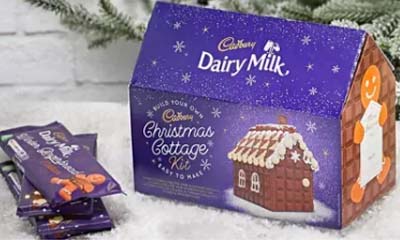 Inside: Freebies Food & Drink
Cadbury Gifts Direct has launched a very special Christmas giveaway not to be missed.
They have a bunch of these very lovely and playful Christmas Cottage Kits to giveaway.
They're worth £16 each but you can't put a price on how much fun you and the kids will have making one of these this festive season and then, of course, enjoying the deconstruction into your mouths.
All you have to do is answer a simple question on their page for the chance to get one of these kits.
Cadbury Christmas Cottage Kits contain the following...
2 x Cadbury Dairy Milk Bar 200g
2 x Cadbury Dairy Milk Winter Wonderland Edition 100g
2 x Cadbury Dairy Milk Winter Gingerbread Edition 120g
2 x Cadbury White Buttons Bag 14.5g
2 x Cadbury Flake Treatsize 14.5g
Constructing these cottages is quite simple too and details on how to make them including a template are included in the packaging. If you perform a simple google search you will also find videos with a step-by-step-guide.
Click our button below to head over there and apply for the chance to get one.
Share this free stuff on social!
More Free Stuff to see today