fix bar
fix bar
fix bar
fix bar
fix bar
fix bar
Be the FIRST to get new free stuff! Join our mailing list.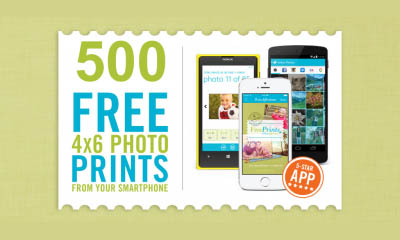 Inside: Freebies Arts & Crafts
Android & iOS Devices Only
FreePrints™ lets you order FREE 6x4 (15x10cm) photos – right from your iPhone or iPad! Printed on your choice of deluxe glossy or premium matt photo paper, you'll get FREE professional-quality pictures, delivered to your door within days, for just the price of delivery.
Order up to 45 FREE 6x4 photo prints a month. That's 500 FREE PRINTS a year! And order other sizes for next to nothing. We also offer 7x5s (18x13cm) and 10x8s (25x20cm), plus 5x5 (13x13cm) prints, perfect for Instagram photos. Order prints as large as 15x10 (38x25cm), 18x12 (45x30cm), 36x24 (90x60cm) and 40x30 (100x76cm).
To get this freebie, simply click the button below and install the app on your device.
Share this free stuff on social!
More Free Stuff to see today